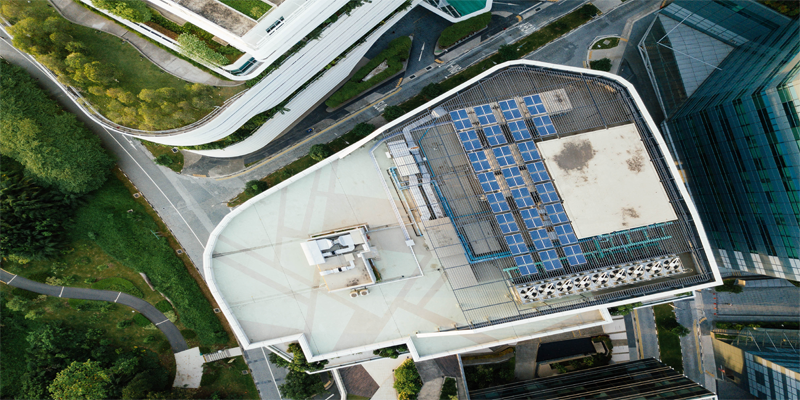 Join The Solar Power Sharing Economy
The electricity market is shifting into the control of consumers, allowing them to; store, monitor, sell-back, and ultimately save on their energy in ways that were once unimaginable. Solar power technology has enabled self-sufficiency of energy in the most widespread and economical way, in particular, the last 10 years, growing cheaper and more efficient by the year.

You may have heard the term 'cryptocurrency' over the past few months, it's a form of digital currency backed by a secured algorithm that doesn't require any trust or financial institution backing. There is a  generalised perception that cryptocurrencies represent simply a form of investment and way to make money, but underlying these digital coins are real companies with life-changing ideas that can impact the world in a valuable way. 

A recent cryptocurrency called 'Power Ledger' is a business that enables consumers to trade the excess energy that they've stored through their solar photovoltaic systems (solar panels). This process is deemed as a 'peer to peer' (P2P) distributed energy resource system, essentially allowing individuals that have an excess storage of energy to sell it on-to other local consumers or business (local 'peers') who would of otherwise not have had access to renewable energy. Power Ledger has been thoroughly tested and works out to be both more profitable for the seller and cheaper for the buyer. This service is revolutionary and will allow consumers and businesses to more efficiently control and utilise their energy resources.

The current conventional energy grid system can be seen to be impeding on businesses and individuals that consume energy in the following two areas:
Volatility and unpredictability in terms of storage, demand, and latency issues for energy  transfer and through;
Sharp increases in electricity prices over the past couple of years, with indicators suggesting further subsequent increases, leading to overall increases in business operational expenses. (Refer to Chart 1 below)

How can this system be implemented?
According to a Clean Energy Australia Report, a diverse range of businesses, schools and organisations are taking the opportunity to utilise their roof space with commercial solar panels to reduce their electricity bills.  Queensland continues to lead in the national race of photovoltaic installations, where these results of increased commercial installations represent a greater understanding by businesses utilising their geographic positioning to make immense savings for the future of their business.
Generally speaking, a large business will want to take advantage of its operational space to allow for economies of scale in energy production and storage. A Microgrid system is most suitable for this cause, which is essentially a downsized version of a utility power system. 
For a small to medium-sized business (SMB), a Nanogrid system may be more realistic and most similar to a household energy production and storage system. It is used to house their own isolated grid networks powered by batteries that can support electronics, lighting and internet communications.
So you have your solar panel system setup? What's next?
It's time to join up your physical solar network or assets with the Power Ledger:  
No hardware or software is required by the user, just a login.
The interaction between the physical asset (your solar network system) and the Power Ledger system works by the asset being a participant of the platform which interacts through its smart meter and Sparkz wallet and can then transact energy autonomously. 
Electricity is priced in your local currency, represented by 'Sparkz'. Sparkz is pegged to local fiat currency and the cost of power whereby, 1 Sparkz will equal $1 AUD. This simply means a Sparkz will represent the worth of whatever country you reside in and it's worth, like many countries, is based on the demand and supply of the country's currency, hence the lack of volatility.
It's also important to note that the ICO 'POWR' and Sparkz/ coins are separate for the stability of pricing and local electricity pricing reasons. For example, if the token market (cryptocurrency market) inflated the POWR price it wouldn't affect the cost of electricity (Sparkz) for the consumers/ businesses.
How can these systems save your business money? 
According to reneweconomy (Sept. 2016), 'nearly one-quarter of  Australian businesses are claiming to have already tapped rooftop solar as a measure to cut electricity costs and be more environmentally responsible.'
By generating your own solar power energy, storing the excess electricity and selling it either back to the network grid or to other local consumers and businesses (peer-to-peer distribution method)  you can bypass the following costs:
Wholesale costs of electricity being generated or gas being extracted
Network charges for the delivery of energy through power lines (electricity) and pipelines (gas)
Retail margin costs which consist of meter reading and other supplementary services
What's next?
So far Power Ledger has managed to gain:
Competition support: They're partnered with top energy companies from Origin Energy Australia and Tech Mahindra in India, which shows that they're working with the competition and not against it. It also shows that the big energy players understand the value of this service and how important it will be in the future.
Acceptance in the Market: Backed by the wider public with earnings of 34 million from its initial coin offering (ICO) and general overall support and acceptance by the public from what they're doing for society (**based on feedback and comments online**)
Government-backed: Gained support and funding from the Australian Government and Thai Government 
Property Industry on board: Power Ledger also has partnered up with many property developers and property development projects. Their idea is to demonstrate the value, security, and ease of the Peer to peer energy process - changing the way electricity supplies are provided and funded in property development. Their most recent property development project in Perth, Australia looks at incorporating their system into a conglomerate of 160 homes with other projects in Tasmania, White Gum Valley, and Thailand.
**Note: Power Ledger aims to be fully operational and available to the wider public by the second quarter of 2019** 
By becoming part of the Power Ledger peer-to-peer network you can enable your business to lock-in long-term profits and while safeguarding your energy needs into the future. If you're yet to evaluate or organise your businesses stance on Solar Energy now is the time!